You may have heard that CR Fletcher Associates recently sponsored a dinosaur at the Rosamond Gifford Zoo's 'Dinosaur Invasion!' exhibit. Why, you ask? Below is an excerpt from an interview that Carol Fletcher and Michelle Jevis participated in with Friends of the Rosamond Gifford Zoo. Thanks to our friends at the Zoo for asking us to be a part of this exciting community event!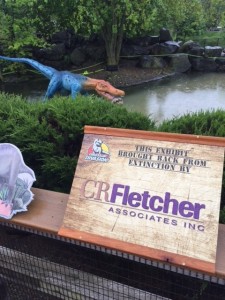 1) Why did CR Fletcher decide to sponsor the Baryonyx for the zoo's Dinosaur Invasion exhibit?
The Rosamond Gifford Zoo is a critical part of our community, contributing to individual's downtime to relax. We consider it a critical part of the community, and thought it would be both educational and fund to participate. CR Fletcher is a full service recruiting firm, working with executives, management, staff, and administrative individuals and we felt strongly that this exhibit would reach candidates and clients alike.
2) What does CR Fletcher get out of bringing an educational exhibit to the community and supporting the Rosamond Gifford Zoo?
CR Fletcher will get visibility, reaching a vast array of local community members. We also feel that because it is an educational exhibit, it contributes to the growth of youth in our area.
3) Did you or your colleagues have an opportunity to see zoo visitors enjoying the dinosaur you sponsored?
Yes! Our colleagues and clients had the opportunity to visit the Zoo first hand to experience the dinosaur exhibit. It was great to see the children enjoying another educational facet of the zoo.
4) Please share your feedback or an example of any feedback you received on the exhibit?
The dinosaur exhibit has been a topic of conversation in our office. The feedback has been very positive, and automatically brings a smile to people's faces.
http://www.rosamondgiffordzoo.org/